This is my "Behind the Music" story. There's at least three songs that can be traced back to this one night in Sarasota.

It was another beautiful Saturday in that geriatric amusement park that is Florida. So many exciting opportunities... I could go to the beach, go fishing, try out parasailing, maybe kayak down the river and look at the alligators, but I decided I would spend this fine day drinking.
I was hanging at the Brownstone with Todd and Rasceal. The Brownstone was in the artist ghetto of Sarasota and across the street from my brother's studio where I was staying. Todd and Rasceal were having Buds and I was sipping on a Guinness.
Rasceal was a Cuban refuge and had nearly died escaping Cuba. He and two friends spent nine days on a raft he made out of two Russian tractor inner tubes. During the eighth night of their voyage, they were sure they were going to die. Rasceal's friends were Christians and pleaded with him to convert. He refused.
"What is God?" he said. "Look at this ocean all around us. The sky. There is your God."
When we talked we bounced from Spanish to English. Neither of us could speak the other language too well:
RASCEAL: Why do you drink that beer? It is black.
ME: Porque mi corazon es negro.
(I know there should be upside down question marks and accents with the Spanish, but my keyboard doesn't speak Spanish)
...
A man with a purple suit walked in. At first, I thought he was Willy Wonka but he introduced himself as Carlito. He too was an artist. Artists are always walking around in purple suits and carrying one word titles like "Carlito". Names are not good enough for some artists.
Carlito announced to the bar that he was having an opening down the street. I immediately asked if there would be wine.
"I'll have them pick up an extra bottle for you", he said.
"We require one bottle each to grace your opening with our presence."
"Of course".
Carlito left and Ed had joined us. Ed was a painter and a bad one. He was a good drunk though. By good I mean entertaining. He fell off the stool at least once a week. Once he disappeared for a few days and we all got worried about him imagining the worse. I figured he got drunk and fell in the bay where he was pummeled senseless by some straight edge dolphins.
He reappeared after three days like the Messiah and we all gave a cheer. He had only gone to see his sister or some shit. He nearly cried when he realized we were worried about him.
Not too many people worry about Ed.
When we finished our beer we decided to had to Todd's studio and smoke a joint. Todd was a scrap metal artist. He would basically bang on junked metal until it shaped itself into something that thrilled him. Sometimes it thrilled me. Sometimes... well... sometimes it looked like somebody got high and banged the shit out of some sheet metal.
So we got high and instead of banging on sheet metal we played the ring game. Todd's studio had twenty foot ceilings so he mounted a post high up on the wall. Then he made some aluminum rings to toss at the post. It was a fun game though there was no real competition to it. Someone would lasso the post (usually Todd...) and we would go "hooray"
Who won?
who cares...
We heard a hug crash in the bathroom. Ed. We had no idea he was that far ahead of us. He stumbled out and passed us reeking of piss. He left without a word and Todd went into the bathroom to inspect the damage. He came out shaking his head. I was barefoot so I decided it was safer to take leaks outside and take my chances with public urination citations.
After a few more rounds of ring game and Budweiser's we went to gallery. We made our way around his miniature fun house filled with Dali kaleidoscopes and found a jovial Carlito. He had sold a couple pieces. We finished the two open magnums of cheap wine and split the third out on the porch. Then Carlito invited took us back into the kitchen and we raised glasses of cognac toasting his great success.
"To selling out!" I said.
"To selling!" Carlito answered.
"I like Dali. He had a great moustache!" I said.
"Yeah, it was a good look" Carlito answered.
"Too bad he ruined it for the rest of us."
Then we had another joint and Todd and I went back to the bar. Rasceal dropped out and went home.
"No quiero" he said.
"Good night" I said.
The Brownstone was jumping no with some avant garde cybergeek band. Earl drew me a Guinness before I was able to ask for it. He was enjoying all the excitement at his bar. Not simply because he was making some money but because this was the place he wanted. During the week, The Brownstone was pretty much a redneck dive but now it was happening. There was live music and even dames...

Todd and I split up and I took a seat at the bar. Next to me was a dame I had seen in one of my brother's paintings. She had modeled for him at some point. I had seen her before in a sea of squiggly lines. Something like...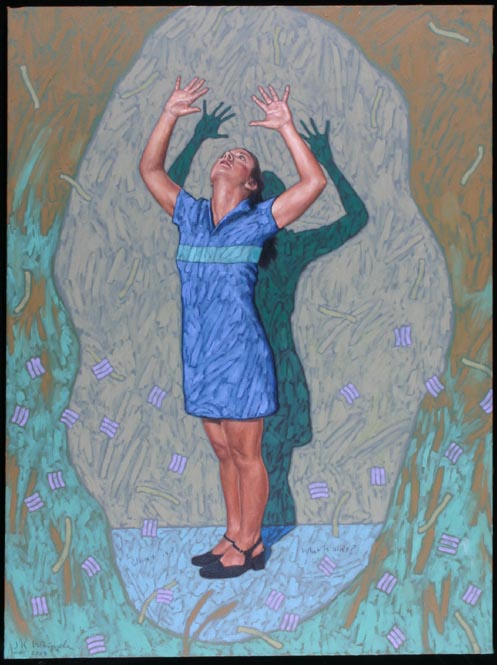 (painting by Jeff Whipple... he wants me to mention that this painting has nothing to do with my story and we have no association with each other except that unfortunate matter of genetics.....)

That's not her. I wouldn't do that. Your welcome to go to my brother's website and take a guess at which model I scored with that night. Here's the website...
http://jeffwhipple.com
If you're thinking it's the girl giving birth to toast you're not even close.....

Anyway... this girl (actually she was older than I...) wasn't much but she was just what I needed and I had drunk my way to having the nerve to talk to her
I tried to get nerve to talk to you but first I need a drink or two... or three or four or five.......
I'm not one to bag dames at the bar but this was different. I needed to get over her. It had been too long since her and I really needed to push her back a little. I had been traveling too long and too far to still have her headlights in my rearview...
She was the one. We were Fourth of July every day. We were inseparable... even when we were separated... She could be at work and I could be in our little studio playing guitar but we were still together. She could be out of town. It didn't matter. We were one. We were beautiful. We were in love. We were love. We were together...
....

Well... you know how it goes...
that same old song.......
Years later we were in Anchorage and we were never together. Even when we were right next to each other... having dinner... drinking a beer at the bar... we were never together. Even when we made love it was as if I was in the garage and she was in the kitchen... Soon we were not even in the same town... area code even.....
We can play hide and seek all day and all your secret places I won't give away
I'll just get lost myself and put love on a shelf.... it's over....
Now.
She... The One.... was getting married. Now the car in the rearview had a passenger. I really needed to get laid.
...
So I sat with my brother's model and though I was full of drunken bravado she beat me to the opening cliché.
"Haven't I seen you before?"
"Well, that depends on what you saw m doing..."
"You're in jail" she nodded towards the door. I had put a flier there for a performance I was giving next week. The flier was decorated with my mug shot. I was arrested at the Brownstone a week ago. The mug shot made for a cool flier.
This is the mug shot.
I really liked that soup can rigging holding up the card.
Style...
"So what did you do?" she asked.
"Murder."
"Who did you kill?"
"They never told me."
"Seriously". She was getting impatient.
"I was thrown against the wall over there (I pointed to the wall where it had, in fact, happened...). Me and the authorities had a disagreement..."
"Oh I see. You're a rebel."
"I'm disagreeable..."
...
I had an issue with the Sarasota Police. I knew I was going to wind up getting arrested. It was only a matter of time. The artist's ghetto was near a housing project and the cops were afraid of the project itself but they were more than bold enough to stop and search any white person walking around the 'hood at night.....
put your hands against the wall...
I was not into being searched every other night. I raised hell every time. Things escalated with each new encounter. I'm an escalator. Finally, one night I was at the Brownstone packing up some equipment after performing with a friend there when I saw the cops close in on some kids leaving the all ages club up the street. Sure enough, they were all spread out on the hood.
"Where's the probable cause?" I shouted.
They got pissed and two of them, a boy and girl team, pulled out front and motioned through the window for me to come out and talk with them. I refused so they got even more pissed and came inside.
...
"We had a little public debate..." I told her.
"You lost?"
"Oh no. I won. Home field advantage..." I shouted to Earl, "Hey Earl, who won the debate between me and cops last weekend?" He pointed at me and nodded. Earl was on my side and wanted me to get laid. He took pride in his place and I'm sure it gave him satisfaction when a regular scored there. It didn't happen often.
"So", I continued, "I was embarrassing them so they told me if I said one more word I was going downtown..." I paused and waited....
She took the bait, "So, what did you say?"
"One... more... word...."
"Of course", she said.
...
What followed was an instantaneous SLAMFBANGFACEINTHEWALLCUFFSBACKSEAT. Next thing I knew I was sitting in the squad car like Butthead saying...
"That was cool."
One of Todd's sculptures fell from the wall and broke. Todd came in the next week with white tape and outlined the corpse.
Earl took this picture and sent it to in Flagstaff months later.
I told her "Boy cop pinned me and girl cop cuffed me. It used to be good night when it ended up when a girl handcuffed me..."
"I see how you are" she smiled. It was so on....
"So anyway they threw me in jail and all I got was a lousy mug shot.... and that cost me fifteen cents! Oh... I got a song too. Cellblock Floor. They took me away from my beer, cigarettes, and shoes but it was worth it.."
She looked down at my feet. "Still haven't found the shoes?"
"They ran for it."
She smiled. She was into me. It didn't matter that was sporting a Goodwill Wardrobe and barefoot.... or maybe it did. It all said that I didn't give a shit. Some chicks dig that. Plus, I had just been to jail. I was dangerous. Chicks dig dangerous men.
It was time to close the deal. I finished off the Guinness that Earl had brought me without asking and we went back to my place.
I took her to my brother's studio. It was only twenty feet away and he was in Jacksonville. His studio was basically a warehouse with thousands of unsold paintings and sculptures everywhere. Still, he was a successful artist. He actually had a bed. I had a mattress sitting flat on the concrete floor in a small and relatively private corner.
...
I still sleep on a mattress on the floor....
maybe someday I'll get a bed....
...when I'm a rockstar.
...
So we fell all over each other on my mattress.... Things weren't going well though. I knew I needed this but all that wine and that cognac and those joints and that Budweiser and those Guinness' had caught my ass and oh my was I so completely fucked up.... I simply wasn't functioning. I knew what I supposed to do but the world was too slippery. The spins were battling my sexual urges for my attention and the spins were winning....
It was a real bad night to experiment with bondage but in desperation the handcuffs came out.
"So it used to be good night?" she smiled as she closed them around my wrists.
So... You might be wondering where the handcuffs came from and what they were doing there in the first place. Well... how can I put this???.... maybe that's getting a little too personal even for me. So... perhaps I should just do what the government does when something potentially embarrassing comes up. Write it down and then redact it.
Handcuffs are yummy and sexy though I would be more turned on if we were both on stilts having sex on a stage in front of a bunch of dwarves who were applauding and feasting on turkey legs. Maybe a one eyed man in a cage shouting obscenities and conspiracy theories for good measure. Yes... that would be sexy... damn sexy. I don't know what could top that off... maybe sex in outer space... floating above Russia naked and weightless... that could be fun... maybe some handcuffs too... me and my cosmonaut... a cosmonaut would be damn sexy.

... so that's why I wound up handcuffed to some conduit that ran up the wall in what passed for my bedroom. She had my gotten my full attention and, to her credit, she knew how to treat her prisoner. I was really wasn't expecting her to that midget to lick my feet.... or her to read m those Lorca poems.....
She finished me off. More of a mercy killing than anything else... Then she went to the bathroom to clean up after all that flagellation with limp spaghetti....

After sex was done I was left with those awful spins.... Hurricane John... Category Five and all that... in my head... I knew I was about to be sick. She was in the bathroom so I thought about making a mad dash for the door to the outside. It was a good plan except for one small detail....
I was still chained to the conduit. I tried to squeeze my way out. No dice. I was going to have to chew through my arm and that thought made me even sicker. So I tried to distract myself. I tried to think pleasant thoughts. That didn't work either. I was seriously fucked up...
It was that night I noticed that the world was spinning clockwise. I had never paid attention to which direction the spins went before. I was always too drunk. For awhile I distracted myself wondering if I went and got trashed in Australia, would the world start spinning counterclockwise?
?
I have written many Australians and never gotten an answer.

Damn Aussies....
I tried to hold the line against the fury but the best I could hope for was stretch myself far enough to keep from vomiting on my mattress. I managed that... Almost...

She came back just in time to see the devastation. "It was that good, huh?"

"The best..."

She tossed down the keys not wanting to get too close. I couldn't blame her. I freed myself while she got dressed....

I was feeling better and, for some reason, ridiculously sentimental. I didn't want her to leave. There was no reason to expect her to hang out with a man who had just vomited all over himself but I was drunk...

I chased her all the way to the door and took a step or two beyond. As drunk as I was I was still dimly aware of the fact that going out in public in the middle of the night naked in a neighborhood where I already had a strained relationship with the local fuzz was probably not a great idea.
This was making it too easy for them.
My fleeing lover was half way across the street before she turned around alarmed at how far I had come. She laughed which surprised me. Somehow I was oblivious of how I might have looked standing on the sidewalk completely naked with handcuffs dangling from one arm and vomit all over the other.
She said "Don't worry, I'll still respect you in the morning."
"Don't worry, I'll still respect you in the morning."